TERRORISM - AMERICA AT WAR
September 11, 2001
The events following the tragedy at the World Trade Center and The Pentagon
Four American Airlines and United Airlines passenger jets were hijacked and used in a coordinated terrorist attack on American targets Tuesday.



Vs
The United States Of America Osama bin Laden
President George Bush A wealthy Saudi dissident
based in Afghanistan
---
Who is Osama bin Laden ???
Osama Bin Laden: Has called for a holy war against the US
Osama Bin Laden is both one of the CIA's most wanted men and a hero to many young people in the Arab world. He and his associates were already being sought by the US on charges of international terrorism, including in connection with the 1998 bombing of American embassies in Africa and last year's attack on the USS Cole in Yemen.

In May this year a US jury convicted four men believed to be linked with Mr Bin Laden of plotting the embassy bombings in Kenya and Tanzania.

Mr Bin Laden, an immensely wealthy and private man, has been granted a safe haven by Afghanistan's ruling Taleban movement.

During his time in hiding, he has called for a holy war against the US, and for the killing of Americans and Jews. He is reported to be able to rally around him up to 3,000 fighters.

He is also suspected of helping to set up Islamic training centres to prepare soldiers to fight in Chechnya and other parts of the former Soviet Union.

Sponsored by US and Pakistan

His power is founded on a personal fortune earned by his family's construction business in Saudi Arabia.

Born in Saudi Arabia to a Yemeni family, Mr Bin Laden left Saudi Arabia in 1979 to fight against the Soviet invasion of Afghanistan.

The Afghan jihad was backed with American dollars and had the blessing of the governments of Saudi Arabia and Pakistan.

He received security training from the CIA itself, according to Middle Eastern analyst Hazhir Teimourian.

While in Afghanistan, he founded the Maktab al-Khidimat (MAK), which recruited fighters from around the world and imported equipment to aid the Afghan resistance against the Soviet army.

Egyptians, Lebanese, Turks and others - numbering thousands in Mr Bin Laden's estimate - joined their Afghan Muslim brothers in the struggle against an ideology that spurned religion.

Turned against the US

After the Soviet withdrawal, the "Arab Afghans", as Mr Bin Laden's faction came to be called, turned their fire against the US and its allies in the Middle East.

Mr Bin Laden returned to Saudi Arabia to work in the family construction business, but was expelled in 1991 because of his anti-government activities there.

He spent the next five years in Sudan until US pressure prompted the Sudanese Government to expel him, whereupon Mr Bin Laden returned to Afghanistan.

Terrorism experts say Mr Bin Laden has been using his millions to fund attacks against the US.

The US State Department calls him "one of the most significant sponsors of Islamic extremist activities in the world today".

According to the US, Mr Bin Laden was involved in at least three major attacks - the 1993 World Trade Center bombing, the 1996 killing of 19 US soldiers in Saudi Arabia, and the 1998 bombings in Kenya and Tanzania.

Islamic front

BBC correspondent James Robbins says Mr Bin Laden had "all but admitted involvement" in the Saudi Arabia killings.

Some experts say he is part of an international Islamic front, bringing together Saudi, Egyptian and other groups.

Their rallying cry is the liberation of Islam's three holiest places - Mecca, Medina and Jerusalem.

Analysts say Bin Laden's organisation is very different from the groups that carried out bombings and hijackings in the past in that it is not a tightly knit group with a clear command structure but a loose coalition of groups operating across continents.

American officials believe Bin Laden's associates may operate in over forty countries - in Europe and North America, as well as in the Middle East and Asia.

The few outsiders who have met Osama Bin Laden describe him as modest, almost shy. He rarely gives interviews.

He is believed to be in his 40s, and to have at least three wives.
---
The Events of Tuesday, September 11, 2001
Two planes crashed into and eventually collapsed the twin World Trade Center towers in New York City and a third destroyed part of the Pentagon outside Washington, D.C.
The fourth plane crashed into a rural area in Pennsylvania, about 80 miles southeast of Pittsburgh. It was not known what caused that aircraft to crash so far from any obvious targets, leading to speculation that it may have been shot down by the military.
A Virginia congressman, Rep. James Moran, said the intended target of the Pennsylvania plane was apparently Camp David, the presidential retreat in Maryland, 85 miles away.
All four flights were transcontinental flights, with three heading to Los Angeles and one to San Francisco. They may have been selected because their fuel tanks would have been nearly full upon impact.
The Federal Aviation Administration issued a nationwide "ground stop" at about 9:25 a.m. EDT Tuesday morning, ordering all departing flights canceled nationwide and any planes already in the air to land at the nearest airport. Flights heading to the United States from overseas were redirected to Canada.
Unconfirmed reports initially said that as many as eight airliners may have been hijacked, but there were no more crashes reported after 10 a.m. EDT. as the skies cleared.
"This is perhaps the most audacious terrorist attack that's ever taken place in the world," said Chris Yates, an aviation expert at Jane's Transport in London. "It takes a logistics operation from the terror group involved that is second to none. Only a very small handful of terror groups [are] on that list. ... I would name at the top of the list Osama bin Laden."
The nearly simultaneous attacks pointed to a meticulously planned strike that may well have employed trained pilots, other experts on terrorism said.
"No pilot, even with a gun to his head, is going to fly into the world towers," said Gene Poteat, president of the Association of Former Intelligence Officers.
"They [the presumed terrorists] flew the planes themselves," he speculated.
American Airlines Flight 11, on its way from Boston to Los Angeles, was hijacked Tuesday morning shortly after takeoff from Logan International Airport. The airline said it was a Boeing 767-200, carrying 81 passengers, nine flight attendants and two pilots.
American stated that Flight 11 was the plane that struck Two World Trade Center, the northernmost of the twin towers on the southern tip of Manhattan, crashing into it at about 8:50 a.m. EDT.
About ten minutes later, another commercial jet, apparently United Airlines Flight 175, a Boeing 767 bound from Boston to Los Angeles, approached from the southwest and crashed directly into of Two World Trade Center, the south tower.
United Airlines could only say that Flight 175 lost radio contact between Newark, N.J., and Philadelphia. It carried 56 passengers, two pilots and seven flight attendants.
A second American Airlines plane, Flight 77, en route from Washington, D.C., to Los Angeles, was thought to be the craft that crashed into the Pentagon. It was a Boeing 757 carrying 58 passengers, four flight attendants and two pilots.
Fox News commentator Barbara Olson, wife of U.S. Solicitor General Theodore Olson, was among those aboard Flight 77. Sources tell Fox News that Ms. Olson called her husband from her cell phone twice during the flight, telling him that the hijackers were using knife-like instruments to control the passengers and crew.
Fox News has also learned that American Airlines was fined $99,000 by the Federal Aviation Administration two months ago for failing to apply appropriate security measures on six flights, two of which originated in Boston.
Undercover FAA special agents found that American security screening transported unaccompanied baggage, failed to properly check passenger identification and did not ask appropriate security questions of passengers.
United Airlines has no related security breaches, but was fined recently for shipping inappropriate flammable materials.
Both towers of the World Trade Center collapsed within hours as their internal structures failed, apparently from the heat of the fires.
Military jets were spotted circling New York City at about 11 a.m. EDT.
Two World Trade Center, with a television broadcast tower adding several hundred feet to its height, was briefly the world's tallest building when it was erected in 1972. It was surpassed by Chicago's Sears Tower in 1975, which in turn was topped by the Petronas Towers in Kuala Lumpur, Malaysia, in 1998.
Several New York television and radio stations, including WABC-TV and WNBC-TV, effectively went off the air when Two World Trade Center collapsed.
Four hundred miles to the southwest, American Flight 77 slammed into the Pentagon at about 9:45 a.m., within an hour of the attacks in New York City.
Glenn Flood, a Pentagon spokesman, said there were "extensive casualties and an unknown number of fatalities. "We don't know the extent of the injuries," he said.
"The leadership of the Defense Department is OK. The secretary [Secretary of Defense Donald H. Rumsfeld] is OK," Flood told reporters.
"The whole building shook" with the impact, said Terry Yonkers, an Air Force civilian employee at work inside the Pentagon at the time of the attack. "There was screaming and pandemonium," he said, but the evacuation ordered shortly afterward was carried out smoothly.
"I saw a big jet flying close to the building coming at full speed. There was a big noise when it hit the building," said Oscar Martinez, who witnessed the attack.
The departments of Justice, State, Treasury and Defense and the Central Intelligence Agency were evacuated — an estimated 20,000 at the Pentagon alone. Agents with automatic weapons patrolled the White House grounds.
About half an hour later, part of the Pentagon, one of the world's largest structures and the headquarters of the U.S. military, collapsed as well.
Fox News was told that the crash at the Pentagon could have been a lot worse, as the wedge of the Pentagon that was hit recently underwent renovations and was largely "unoccupied" at the time of the impact.
However, there are reports of "dozens" of fatalities, perhaps from adjacent offices or from passengers on board the aircraft.
United Airlines Flight 93, a 757 en route from Newark, N.J., to San Francisco, crashed about 10 a.m. about 8 miles east of Jennerstown, Pa.
It was carrying 38 passengers, two pilots and five flight attendants.
The Somerset County airport, where Flight 93 plane may have trying to land, is a small, rural facility that does not handle such aircraft.
An emergency dispatcher in neighboring Westmoreland County received a cell phone call at 9:58 a.m. from a man who said he was a passenger locked in the bathroom on that flight, said dispatch supervisor Glenn Cramer.
The man repeatedly told officials the call was not a hoax.
"We are being hijacked, we are being hijacked!" Cramer quoted the man from a transcript of the call.
The man told dispatchers the plane "was going down. He heard some sort of explosion and saw white smoke coming from the plane and we lost contact with him," Cramer said.
"It shook the whole station," said Bruce Grine, owner of Grine's Service Center in Shanksville, Pa., about 2 miles from the crash. "Everybody ran outside, and by that time the fire whistle was blowing."
Michael R. Merringer was out on a mountain bike ride with his wife, Amy, about two miles away from the crash site of Flight 93.
"I heard the engine gun two different times and then I heard a loud bang and the windows of the houses all around rattled," Merringer said. "I looked up and I saw the smoke coming up."
In Chicago, United CEO James Goodwin said the airline is working with authorities including the FBI. United said it was sending a team to Johnstown, Pa., to assist in the investigation and to provide assistance to family members.
"Today's events are a tragedy and our prayers are with everyone at this time," Goodwin, said.
Los Angeles International Airport, to which three of the four hijacked airplanes were heading, was under tight security. Police were not allowing people to unload baggage to board flights at the American Airlines terminal.
At least 20 Los Angeles police officers were at the terminal.
One officer Lt. Howard Whitehead said, "All we know is what we've heard from radio and television. We're not allowing any unattended vehicles near the terminals."
Vehicle traffic was extremely light at the terminal area and the parking lot near the American terminal and the large international terminal were about only about one-third full.
Many people with canceled flights were at the American counter seeking information. Others were carrying and pulling their bags, looking for taxis and other ways to leave after their flights were canceled.
---
The President's Reaction
Statement by President Bush from Barksdale Air Force Base in Louisiana.
Freedom itself was attacked this morning by a faceless coward, and freedom will be defended.
I want to reassure the American people that the full resources of the federal government are working to assist local authorities to save lives and help the victims of these attacks.
Make no mistake, the U.S. will hunt down and punish those responsible for these cowardly acts.
I've been in regular contact with the vice president, secretary of defense, national security team, and my cabinet. We have taken all security precautions to protect the American people. Our military here and around the world is on high status.
And we've taken the necessary security precautions to continue functions of your government. We've been in touch with leaders of Congress and world leaders to tell, to assure them we'll do whatever is necessary to protect Americans.
I ask the American people to join me, to thank all those fighting hard to rescue victims and join me in saying a prayer to victims and families.
The resolve of our nation is being tested ... but make no mistake we'll show the world, we will pass the test.
---
History
September marks the anniversary of several noted
political events and terrorist attacks.
On Sept. 11, 1922, a British mandate was proclaimed in Palestine, despite Arab protests. It lasted until 1948, after the United Nations authorized a partition of the territory and the state of Israel was established.
On Sept. 6, 1970, three planes from TWA, Swissair and BOAC carrying more than 400 hostages were hijacked and ordered to the Jordanian airport by the PFLP, in what is known as "Skyjack Sunday." Another terrorist team tried to hijack an El Al Boeing over London but security staff foiled the attempt and captured one of the hijackers, Leila Khalid, alive. The German, Swiss and British Governments all agreed to the PFLP's demands and released a number of terrorists, including Khalid, held in their jails.
On Sept. 11, 1972, the troubled Munich Summer Olympics, also remembered as "the Olympics of Terror," ended. For 21 hours under live television cameras, hooded gunmen of the Palestinian faction "Black September" held Israeli athletes hostage, killing 11 of them during a botched getaway and airport firefight with German antiterrorism squads.
On Sept. 28, 2000, the eve of Rosh Hashanah (the Jewish New Year), Ariel Sharon, then- leader of the opposition right-wing Likud party, visited the Temple Mount in the Old City of Jerusalem. Sharon, accompanied by an entourage of security officers, claimed he was exercising his right to visit the Mount, but his visit angered many Arabs, both Israeli and Palestinian. The day after the visit saw the beginning of what is known as the Al-Aqsa Intifada.
---
Early Evidence Points to Bin Laden
Usama bin Laden was immediately pegged as the top suspect in the worst terrorist attack in U.S. history on Tuesday, according to officials who said they had traced communications between his supporters and cell phone calls from victims aboard the jetliners that crashed.
Authorities were focusing some of their efforts on possible bin Laden supporters in Florida based on the identification of a suspected hijacker on one of the manifests of the four jets that crashed, law enforcement sources said.
Sources said the FBI was moving in on locations in Broward County in south Florida and Daytona Beach in central Florida. The locations had links to the suspected bin Laden supporter on the jet manifest, the officials said.
U.S. intelligence also intercepted communications between bin Laden supporters discussing the attacks on the World Trade Center in New York and the Pentagon, according to Utah Sen. Orrin Hatch, the top Republican on the Senate Judiciary Committee.
"They have an intercept of some information that included people associated with bin Laden who acknowledged a couple of targets were hit," Hatch said, declining to be more specific.
The ruling Taliban in Afghanistan, however, insisted the billionaire fugitive who lives within their borders could not have carried out the attacks.
"It is premature to level allegations against a person who is not in a position to carry out such attacks," said Abdul Salam Zaeef, the Taliban ambassador in Pakistan. "It was a well-organized plan and Usama has no such facilities."
Others vehemently disagreed, and said bin Laden's organization, Al Qaida, is the prime suspect in the spate of attacks.
Based in Afghanistan, the group has been linked to a series of attacks on U.S. assets around the world and has repeatedly threatened to strike the United States within its own borders.
An umbrella organization with an operational reach that stretches around the globe, Al-Qaida has been extremely successful at maintaining a high level of security and secrecy.
Despite the intelligence efforts of several world powers, bin Laden's organization has continued to support or facilitate acts of international terrorism. No nation has successfully penetrated the organization.
This is partly due to the fact that Al-Qaida operates as an umbrella group supporting a host of cells around the world. The organization develops autonomous cells capable of operating individually without a central command.
Additionally, Al-Qaida coordinates operations and activities with various other militant organizations around the world. The hierarchy of the relationships remains unknown.
Bin Laden himself has repeatedly threatened acts of terrorism against the United States, and Al-Qaida was pinpointed in the attacks on the U.S. embassies in Kenya and Tanzania in 1998.
Also on Tuesday, an editor of a London-based Arab newspaper said bin Laden warned three weeks ago that he would attack American interests and promised "a very big one."
There are other suspected groups, though less likely suspects. An early report from London, quoting Abu Dhabi TV, said the Democratic Front for the Liberation of Palestine (DFLP) claimed responsibility for the attack, but MBC (Middle East Broadcasting) later reported the DFLP denied any involvement. The information has not been confirmed by any U.S. sources.
A Marxist-Leninist organization founded in 1969, the DFLP conducted numerous small bombings and minor assaults and some more spectacular operations in Israel and the occupied territories, concentrating on Israeli targets. It was involved only in border raids since 1988, but continues to oppose the Israel-PLO peace agreement.
With a membership estimated at 500, it receives limited financial and military aid from Syria.
The DFLP broke away from the Popular Front for the Liberation of Palestine (PFLP), another Marxist-Leninist group founded in 1967 by George Habash. The PFLP committed numerous international terrorist attacks during the 1970s. Since 1978, it has conducted attacks against Israeli or moderate Arab targets. With a membership of 800, the PFLP receives safehaven and some logistic assistance from Syria.
Investigators face a monumental task, especially in New York, where two hijacked planes plowed into the World Trade Center towers. Sifting through the rubble, which yielded key clues in the Oklahoma City bombing, will be extremely difficult because of the amount of debris.
Another plane crashed into the Pentagon near Washington, collapsing one side of the building, and a fourth airliner crashed in a field 80 miles southeast of Pittsburgh.
Security analysts said the crash site in Pennsylvania could be a source of quick clues if the plane's black box can be located.
"Some of the first clues will come from the plane," said Eugene Poteat, a retired CIA intelligence officer. The black box, which captures instrument readings and recordings from the flight deck, may have captured voices of those who crashed the plane.
---
Tuesday's chronology of terror
8:45 a.m. (all times are EDT): A hijacked passenger jet, American Airlines Flight 11 out of Boston, Massachusetts, crashes into the north tower of the World Trade Center, tearing a gaping hole in the building and setting it afire.
9:03 a.m.: A second hijacked airliner, United Airlines Flight 175 from Boston, crashes into the south tower of the World Trade Center and explodes. Both buildings are burning.
9:17 a.m.: The Federal Aviation Administration shuts down all New York City area airports.
9:21 a.m.: The Port Authority of New York and New Jersey orders all bridges and tunnels in the New York area closed.
9:30 a.m.: President Bush, speaking in Sarasota, Florida, says the country has suffered an "apparent terrorist attack."
9:40 a.m.: The FAA halts all flight operations at U.S. airports, the first time in U.S. history that air traffic nationwide has been halted.
9:43 a.m.: American Airlines Flight 77 crashes into the Pentagon, sending up a huge plume of smoke. Evacuation begins immediately.
9:45 a.m.: The White House evacuates.
9:57 a.m.: Bush departs from Florida.
10:05 a.m.: The south tower of the World Trade Center collapses, plummeting into the streets below. A massive cloud of dust and debris forms and slowly drifts away from the building.
10:08 a.m.: Secret Service agents armed with automatic rifles are deployed into Lafayette Park across from the White House.
10:10 a.m.: A portion of the Pentagon collapses.
10:10 a.m.: United Airlines Flight 93, also hijacked, crashes in Somerset County, Pennsylvania, southeast of Pittsburgh.
10:13 a.m.: The United Nations building evacuates, including 4,700 people from the headquarters building and 7,000 total from UNICEF and U.N. development programs.
10:22 a.m.: In Washington, the State and Justice departments are evacuated, along with the World Bank.
10:24 a.m.: The FAA reports that all inbound transatlantic aircraft flying into the United States are being diverted to Canada.
10:28 a.m.: The World Trade Center's north tower collapses from the top down as if it were being peeled apart, releasing a tremendous cloud of debris and smoke.
10:45 a.m.: All federal office buildings in Washington are evacuated.
10.46 a.m.: U.S. Secretary of State Colin Powell cuts short his trip to Latin America to return to the United States.
10.48 a.m.: Police confirm the plane crash in Pennsylvania.
10:53 a.m.: New York's primary elections, scheduled for Tuesday, are postponed.
10:54 a.m.: Israel evacuates all diplomatic missions.
10:57 a.m.: New York Gov. George Pataki says all state government offices are closed.
11:02 a.m.: New York City Mayor Rudolph Giuliani urges New Yorkers to stay at home and orders an evacuation of the area south of Canal Street.
11:16 a.m.: CNN reports that the Centers for Disease Control and Prevention is preparing emergency-response teams in a precautionary move.
11:18 a.m.: American Airlines reports it has lost two aircraft. American Flight 11, a Boeing 767 flying from Boston to Los Angeles, had 81 passengers and 11 crew aboard. Flight 77, a Boeing 757 en route from Washington's Dulles International Airport to Los Angeles, had 58 passengers and six crew members aboard. Flight 11 slammed into the north tower of the World Trade Center. Flight 77 hit the Pentagon.
11:26 a.m.: United Airlines reports that United Flight 93, en route from Newark, New Jersey, to San Francisco, California, has crashed in Pennsylvania. The airline also says that it is "deeply concerned" about United Flight 175.
11:59 a.m.: United Airlines confirms that Flight 175, from Boston to Los Angeles, has crashed with 56 passengers and nine crew members aboard. It hit the World Trade Center's south tower.
12:04 p.m.: Los Angeles International Airport, the destination of three of the crashed airplanes, is evacuated.
12:15 p.m: San Francisco International Airport is evacuated and shut down. The airport was the destination of United Airlines Flight 93, which crashed in Pennsylvania.
12:15 p.m.: The Immigration and Naturalization Service says U.S. borders with Canada and Mexico are on the highest state of alert, but no decision has been made about closing borders.
12:30 p.m.: The FAA says 50 flights are in U.S. airspace, but none are reporting any problems.
1:04 p.m.: Bush, speaking from Barksdale Air Force Base in Louisiana, says that all appropriate security measures are being taken, including putting the U.S. military on high alert worldwide. He asks for prayers for those killed or wounded in the attacks and says, "Make no mistake, the United States will hunt down and punish those responsible for these cowardly acts."
1:27 p.m.: A state of emergency is declared by the city of Washington.
1:44 p.m.: The Pentagon says five warships and two aircraft carriers will leave the U.S. Naval Station in Norfolk, Virginia, to protect the East Coast from further attack and to reduce the number of ships in port. The two carriers, the USS George Washington and the USS John F. Kennedy, are headed for the New York coast. The other ships headed to sea are frigates and guided missile destroyers capable of shooting down aircraft.
1:48 p.m.: Bush leaves Barksdale Air Force Base aboard Air Force One and flies to an Air Force base in Nebraska.
2 p.m.: Senior FBI sources tell CNN they are working on the assumption that the four airplanes that crashed were hijacked as part of a terrorist attack.
2:30 p.m.: The FAA announces there will be no U.S. commercial air traffic until noon EDT Wednesday at the earliest.
2:49 p.m.: At a news conference, Giuliani says that subway and bus service are partially restored in New York City. Asked about the number of people killed, Giuliani says, "I don't think we want to speculate about that -- more than any of us can bear."
3:55 p.m.: Karen Hughes, a White House counselor, says the president is at an undisclosed location, later revealed to be Offutt Air Force Base in Nebraska, and is conducting a National Security Council meeting by phone. Vice President Dick Cheney and National Security Adviser Condoleezza Rice are in a secure facility at the White House. Defense Secretary Donald Rumsfeld is at the Pentagon.
3:55 p.m.: Giuliani now says the number of critically injured in New York City is up to 200 with 2,100 total injuries reported.
4 p.m: CNN National Security Correspondent David Ensor reports that U.S. officials say there are "good indications" that Saudi militant Osama bin Laden, suspected of coordinating the bombings of two U.S. embassies in 1998, is involved in the attacks, based on "new and specific" information developed since the attacks.
4:06 p.m.: California Gov. Gray Davis dispatches urban search-and-rescue teams to New York.
4:10 p.m.: Building 7 of the World Trade Center complex is reported on fire.
4:20 p.m.: U.S. Sen. Bob Graham, D-Florida, chairman of the Senate Intelligence Committee, says he was "not surprised there was an attack (but) was surprised at the specificity." He says he was "shocked at what actually happened -- the extent of it."
4:25 p.m.: The American Stock Exchange, the Nasdaq and the New York Stock Exchange say they will remain closed Wednesday.
4:30 p.m.: The president leaves Offutt Air Force Base in Nebraska aboard Air Force One to return to Washington.
5:15 p.m.: CNN Military Affairs Correspondent Jamie McIntyre reports fires are still burning in part of the Pentagon. No death figures have been released yet.
5:20 p.m.: The 47-story Building 7 of the World Trade Center complex collapses. The evacuated building is damaged when the twin towers across the street collapse earlier in the day. Other nearby buildings in the area remain ablaze.
5:30 p.m.: CNN Senior White House Correspondent John King reports that U.S. officials say the plane that crashed in Pennsylvania could have been headed for one of three possible targets: Camp David, the White House or the U.S. Capitol building.
6 p.m.: Explosions are heard in Kabul, Afghanistan, hours after terrorist attacks targeted financial and military centers in the United States. The attacks occurred at 2:30 a.m. local time. Afghanistan is believed to be where bin Laden, who U.S. officials say is possibly behind Tuesday's deadly attacks, is located. U.S. officials say later that the United States had no involvement in the incident whatsoever. The attack is credited to the Northern Alliance, a group fighting the Taliban in the country's ongoing civil war.
6:10 p.m.:Giuliani urges New Yorkers to stay home Wednesday if they can.
6:40 p.m.: Rumsfeld, the U.S. defense secretary, holds a news conference in the Pentagon, noting the building is operational. "It will be in business tomorrow," he says.
6:54 p.m.: Bush arrives back at the White House aboard Marine One and is scheduled to address the nation at 8:30 p.m. The president earlier landed at Andrews Air Force Base in Maryland with a three-fighter jet escort. CNN's King reports Laura Bush arrived earlier by motorcade from a "secure location."
7:17 p.m.: U.S. Attorney General John Ashcroft says the FBI is setting up a Web site for tips on the attacks: www.ifccfbi.gov. He also says family and friends of possible victims can leave contact information at 800-331-0075.
7:02 p.m.: CNN's Paula Zahn reports the Marriott Hotel near the World Trade Center is on the verge of collapse and says some New York bridges are now open to outbound traffic.
7:45 p.m.: The New York Police Department says that at least 78 officers are missing. The city also says that as many as half of the first 400 firefighters on the scene were killed.
8:30 p.m.: President Bush addresses the nation, saying "thousands of lives were suddenly ended by evil" and asks for prayers for the families and friends of Tuesday's victims. "These acts shattered steel, but they cannot dent the steel of American resolve," he says. The president says the U.S. government will make no distinction between the terrorists who committed the acts and those who harbor them. He adds that government offices in Washington are reopening for essential personnel Tuesday night and for all workers Wednesday.
9:22 p.m.: CNN's McIntyre reports the fire at the Pentagon is still burning and is considered contained but not under control.
9:57 p.m.: Giuliani says New York City schools will be closed Wednesday and no more volunteers are needed for Tuesday evening's rescue efforts. He says there is hope that there are still people alive in rubble. He also says that power is out on the westside of Manhattan and that health department tests show there are no airborne chemical agents about which to worry.
10:49 p.m.: CNN Congressional Correspondent Jonathan Karl reports that Attorney General Ashcroft told members of Congress that there were three to five hijackers on each plane armed only with knives.
10:56 p.m: CNN's Zahn reports that New York City police believe there are people alive in buildings near the World Trade Center.
11:54 p.m.: CNN Washington Bureau Chief Frank Sesno reports that a government official told him there was an open microphone on one of the hijacked planes and that sounds of discussion and "duress" were heard. Sesno also reports a source says law enforcement has "credible" information and leads and is confident about the investigation.
---
What does America want ?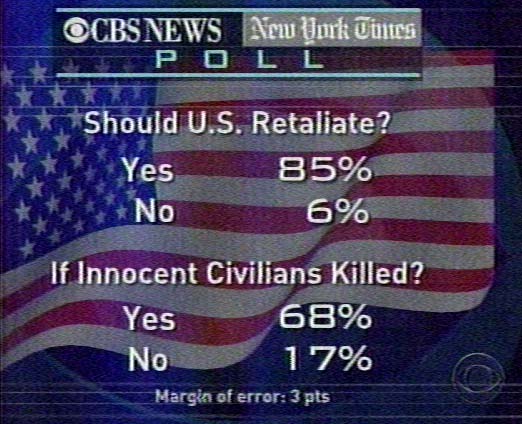 ---
** UNDER CONSTRUCTION **